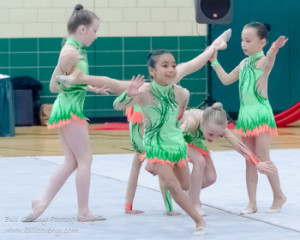 Recreational Program
– Beginner
– Intermediate
– Advanced
For ages 4 and up. Training 1-2 hours per week. This level offers basic Rhythmic Gymnastics training with focus on fun and fitness for all to enjoy.
Pre-Competitive Program
For ages 5 and up. Training 4 hours per week. Gymnasts from the recreational program who have an exceptional aptitude may be invited to audition for this program. Professional ballet training is included.