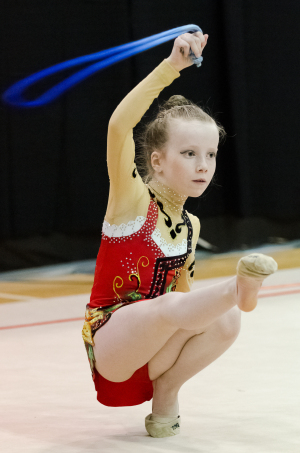 Rhythmic Gymnastics is one of the most beautiful and precise Olympic Sports. It is a combination of the dynamics and flexibility of gymnastics, the technical knowledge of ballet, and the self-expression and rhythm of modern dance. Unmatched for its elegant, expressive, precise and graceful movements, Rhythmic Gymnastics is choreographed to music and accompanied by colourful hoops, balls, ropes, ribbons, and clubs. The benefits of Rhythmic Gymnastics to girls in their formative years include physical fitness, self-discipline, positive self-esteem, lasting friendships, team skills, fun and a healthy lifestyle that the gymnast will sustain for life.
The following programs are offered in Fall, Winter, Spring, March Break, and Summer Camp.
– Recreational Program (Beginner, Intermediate, Advanced)
– Pre-Competitive Program
– Inter-Club Competitive & Performance Program
– Competitive Program (Provincial Level)
– Competitive Program (National Level)
– Special Olympics Program
– March Break Camp & Summer Camp
– Professional Performance Program
The Professional Performance Team members are those retired national and provincial competitive gymnasts who are willing to focus on high level performances and are also interested in coaching rhythmic gymnastics. The performance team is available for community and corporate events in the national capital area. Previous events include Canada Day, SuperEx, Winterlude, Chinese New Year, Dragon Boat Festival, International Children's Day, etc.
– Ladies Program
For ladies at all ages. 2 hours per week. Rhythmic Gymnastics is based on natural body movements, almost every woman can accomplish. This beautiful sport is an ideal way for ladies to keep fit and flexible both physically and mentally.
– Flexibility & Conditioning Training Program
Our club has been offering flexibility & conditioning training to many figure skaters, ballet and highland dancers, aerobic gymnasts, and synchro swimmers who have won many medals at the national and internatinal level. Our training has been well received and it has greatly improved those athletes' performance in their sports. As a professional Rhythmic Gymnastics club, we have a proven curriculum to improve athletes flexibility gradually without hurting all of those joints. Please contact us for details.
– Mental Training Program
This program is for high level athletes to improve their performances at the national and internatinal competitions. Please contact us for details.