Subject: Request for sponsorship for Ottawa Rhythmic Gymnastics Club (ORGC)
ORGC was founded in 1996 and incorporated in January of 1999. The club is a registered member of Gymnastics Ontario and is actively involved with the National, Provincial, Regional (Interclub) and Special Olympics rhythmic gymnastics programs. ORGC currently has 105 members ranging from ages 4 – 22. Our season spans a period of 10 months starting in September and ending in June. Our 2014 – 2015 season was a huge success. The club earned 12 gold, 5 silver, 16 bronze and 27 ribbons (4th-8th) in the 2015 Ontario RG Championship/RhythmFest. Vlada Coveny (L2A) and Cleo Page (L6B) have won the 2015 Provincial Champion's titles!
The mission of the Ottawa Rhythmic Gymnastics Club (ORGC) is to make rhythmic gymnastics accessible to all girls and young women in the community and provide the training support for those who wish to excel and compete at the provincial, national and international level. ORGC promotes essential life skills and attributes in all our young athletes including:
physical, emotional, and mental strength
health, happiness, and self-confidence
dedication, responsibility, and respect
sportsmanship, teamwork, and community service
Our goal is to update our equipment in order to maximize each athlete's potential. Purchasing new equipment is a high priority for our club as we prepare to host major competitions, including the provincial championships, in the next 5 years.
In order to be successful in its goals, the club is looking for financial support from individuals and businesses to cover such costs as purchasing a FIG Approved Rhythmic Carpet and equipment, and participation and travel fees for provincial and national competitions. Member fees unfortunately do not cover these costs entirely, so we are pursuing sponsorships to help subsidize these expenses.
We are hoping to develop long-term relationships with companies interested in supporting ORGC. In return for your support, the club would recognize our sponsors on our webpage, uniforms, event flyers and emails and distributing promotional materials during events.
We offer three sponsorship plans (Gold, Silver, Bronze), and we can customize a plan that best meets your needs.
Please find enclosed our sponsorship packages and the benefits sponsors can enjoy for your support of ORGC. If you have any questions or concerns, please feel free to contact Karin Johnson or Ling Xue, via email orgc@sympatico.ca or 613-741-8808. We thank you for your consideration and look forward to developing a valued relationship.
Sincerely yours,
Ottawa Rhythmic Gymnastics Club
---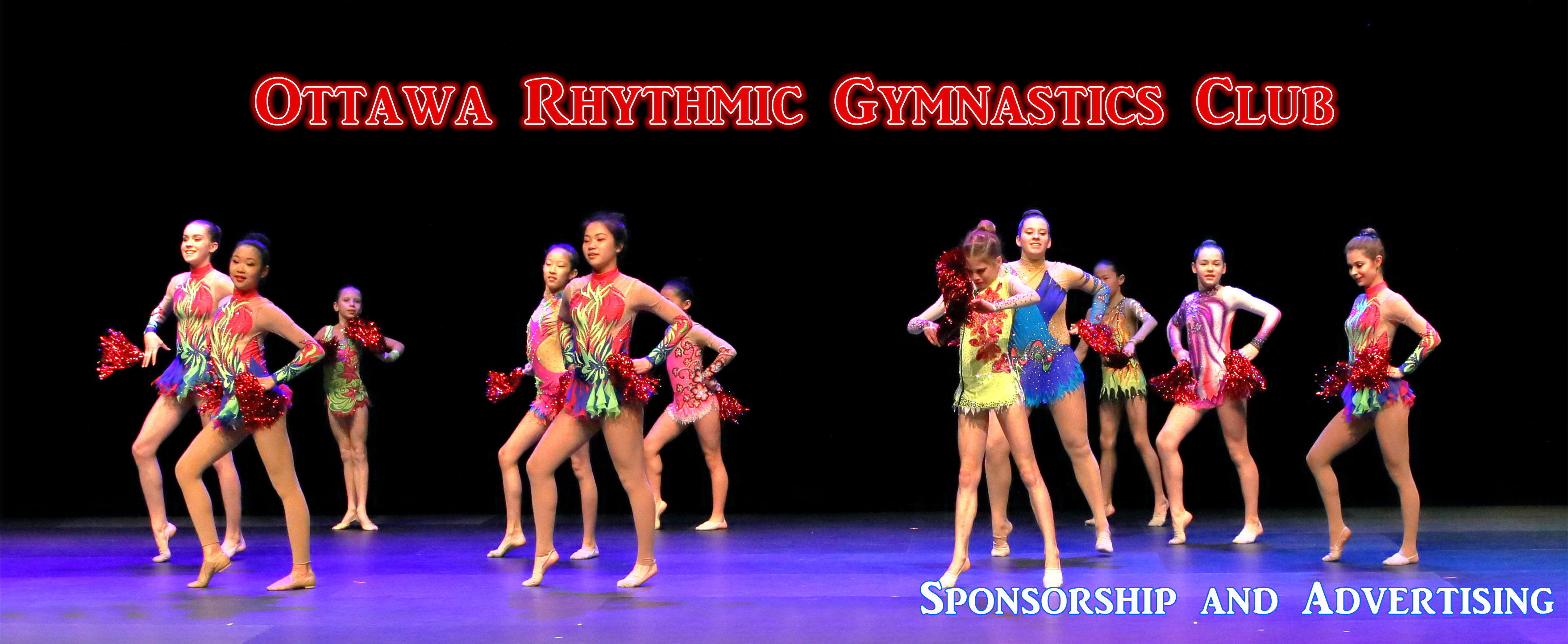 ---
2017 – 2018 Sponsorship Packages
Gold Sponsorship ($5,000 Annually)
You receive the following benefits:
Venue Sponsorship with Sign and Logo
Advertisement on our webpage for the entire season
Direct email communication once a year asking members to support our sponsors
Your promotional material distributed during events organized by ORGC
Public announcement of your corporate name at gymnaestrada organized by ORGC
Your recognition on one of ORGC gymnaestrade YouTube video
10 Tickets to club year end gymnaestrada. (Value $50)
10 Tickets to Annual Gala Performance (Value $250)
Monthly payment option
Silver Sponsorship ($1,500 Annually)
You receive the following benefits:
Website listing and logo on Sponsors Page for the entire season
Public announcement of your corporate name at gymnaestrada organized by ORGC
Direct email communication once a year asking members to support our sponsors.
10 Tickets to club year end gymnaestrada. (Value $50)
6 Tickets to Annual Gala Performance (Value $150)
Bronze Sponsorship ($500 Annually)
You receive the following benefits:
Website listing and logo on Sponsors Page for the entire season
10 Tickets to club year end gymnaestrada. (Value $50)