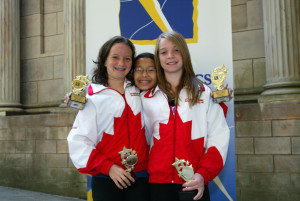 The Club's 13th Annual Christmas Gymnaestrada Show, St Patrick's High School, December 13, 2009
Champion's Day at Wonderland, Toronto, September 13, 2009
Performance at the Government of Canada United Way Charitable Workplace Campaign, September 9, 2009
Performance at the 2009 Ottawa SuperEX, Lansdowne Park, August 20-30, 2009

Ontario Provincial Championships & RhythmFest, Toronto, June 6-7, 2009
Gold: 8, Silver: 8, Bronze: 8. Congratulations!
At the 2009 Rhythmic Gymnastics Provincials Championships, hosted by York Stars and Silhouettes of York, our club had a great turn out. With 20 individual athletes, 14 qualified and with 4 provincials groups, all qualified.
Congratulations to Gaby, level 5A, and Laurel, level 6A, who are the new provincial champions in their level ! Our all around silver medalists, Christa, level 6A, and Cleo, level 3B, also had outstanding performances. Congratulations to our bronze medal all around winners, Diana – level 5A, Nayeli, level 4B, pre-novice AGG and pre-novice group of five. Pre-novice Duo (Sophie & Emilia): 4th, Pre-novice Duo (Sarah & Maya):5th. Rounding out the top eight in the all around category are, in 7th, Melanie, level 1B; in 8th, Mi Yen, level 2A; in 7th, Kaitlyn, level 3A; in 6th, Vivian, level 4A; in 5th, Kristin, level 4B; in 4th, Chantal, level 5A; and in 8th, Jaimee, level 5B. Chantal: L5A Gold in Ribbon; Diana: L5A, Gold in Free (by ORGC junior writer Jaimee).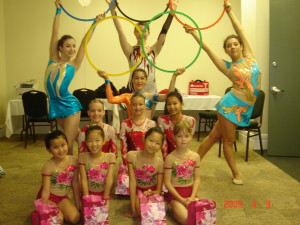 Special Olympics Invitational, Durham, May 23, 2009
Gold: 6, Silver: 4, Bronze: 1. Congratulations!
Spring Blossom Rhythmic Gymnastics Invitational, Etobicoke, May 8, 2009
Gold: 5, Silver: 2, Bronze: 2. Congratulations!
Ontario Provincial Rhythmic Gymnastics 2nd Qualifier, Cambridge, May 2-3, 2009
Gold: 4, Silver: 5, Bronze: 10. Congratulations!
2009 Rhythmic Gymnastics Elite Ontario Competition, Toronto, April 3-4, 2009
The Elite Ontario Competition declares the Provincial Champion in Individual & Group Categories at the National Level. Our girls (Junior Trio) won the 2009 Provincial Champion's title and were awarded free tickets to attend the Champion's Day events at Wonderland, Toronto, on September 13, 2009. Congratulations!
Ontario Provincial 1st RG Qualifier, March 20-22, 2009
Gold: 8 (ind & grp), Silver: 10, Bronze: 10, Ribbon: 12. Congratulations!
Performance at the Ottawa City Hall, March 13, 2009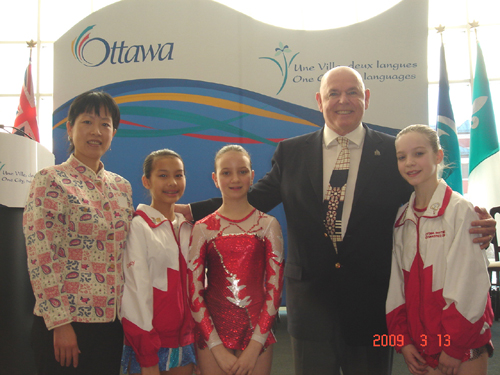 Our National Champions Gaby, Chantal, and Diana pose with Ottawa Mayor Larry O'Brien and coach Sing. The trio recently won the Canadian National RG Group Champion's title at the 2009 Canadian Group Championships in Abbotsford BC on March 5-8, 2009 2009 Canadian RG Group Championships & Future Star Invitational Competition, Abbotsford BC March 5-8, 2009 We sent a team (6 girls) to the competition and won one gold (Junior Trio), one silver, and one bronze. This was the first time our club won the Canadian National RG Group Champion's title.
2009 Kanata Cup, Feb 28 – Mar 1, 2009 Gold
28 (5 all-around), Silver: many, Bronze: a lot. Congratulations!
The Olympium RGC 19th Annual competition, Etobicoke, Feb 6-8, 2009
Gold: 7, Silver: 14, Bronze: 5. Congratulations!
2009 Questo Crystal Cup, Montreal, Jan 24-25, 2009
Gold: 11, Silver: 11, Bronze: 10. Congratulations!