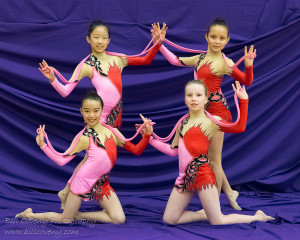 Coaching Staff
Our Gymnasts
Awards
Guest Book
Locations
Ottawa Rhythmic Gymnastics Club
Our club was founded in 1996 and incorporated in January of 1999. The club is a registered member of the Gymnastics Ontario. The club began with some recreational classes and quickly expanded to competitive and performing groups. Our gymnasts have won many medals at provincial and national competitions. In 2002, 11 of our gymnasts won gold medals at the Ontario Provincial Championships. In 2003, one of our Special Olympic gymnasts won gold medal for Canada at the World Games in Dublin, Ireland. In 2004, we started the national competitive program. On February 26 2005, two of our national level gymnasts won silver medal at the Canadian Rhythmic Gymnastics Group Championships in Vancouver. In May 2005, we won 4 Provincial Championships (19 gold). In May 2006, we won another 4 Provincial Championships (12 gold) in Toronto. Recently, our head coach Xinhong Jin received the 2006 National Wild Rose Domestic Development Coaching Award, which is given annually to one exceptional coach in Canada who works directly with gymnasts and also develops programming and initiatives that build the sport from the grass-roots.
In addition, we also provide flexibility and other training to some Special Olympics Athletes, Figure Skaters, Ballet and Highland Dancers, and Synchro Swimmers who have won many medals at the national and international level.
Our club's vision is to be Canada's premier rhythmic gymnastics club. Our mission is to make rhythmic gymnastics accessible to all young girls in our community and provide continuing opportunities to those who wish to excel in this sport. Our club activities are focused on teaching and grooming the skills and disciplines required in this sport and showcasing these skills at special community events around the region, such as the Canada Day parade. Our club sponsors and is also actively involved with the national and provincial Special Olympics rhythmic gymnastics program.
Our club's primary goal is to grow the club and offer comprehensive programs, both recreational and competitive, at all levels of rhythmic gymnastics and related disciplines. Our club's long term goal continues to be able to offer its gymnasts, both present and future, the challenges and enjoyment that will help them to be the best they can be. Most of our gymnasts are also top students in their schools.
Our club is very proud of the success of all programs taught by the high quality Coaching Staff who are committed to a career of Rhythmic Gymnastics teaching and development. All coaches are NCCP certified rhythmic gymnastics professionals.